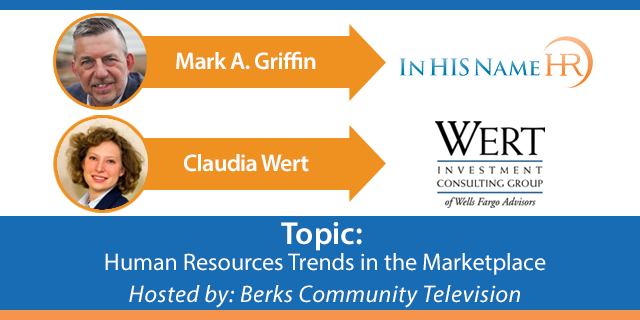 Success In 2019 ~ HR Trends In The Workplace
---
Enjoy watching Claudia Wert of Wells Fargo Advisors and Mark Griffin discuss In His Name HR and trends to look out for in 2019.
About Mark: With over 20 years of Human Resources experience at both fortune (Kodak, Quaker Oats, and Merck) as well as small and mid-sized companies, Mark has seen it all in the workplace.
About Claudia: A retirement plan specialist with Wert Investment Consulting Group, a wealth management practice within Wells Fargo Advisors. Her team advises on $260 million assets under management for high net worth families and businesses. Claudia's partner, Robert Wert, was recognized in 2018 by Forbes magazine on their list of Best-In-State Wealth Advisors.
Berks Community Television Mission Berks Community Television's mission is to enhance the unity and strength of the community by providing:
♦ A medium for community dialogue and educational opportunities
♦ A source of information of local, national and international origin
♦ A forum for the exchange of ideas on issues and topics of community interest