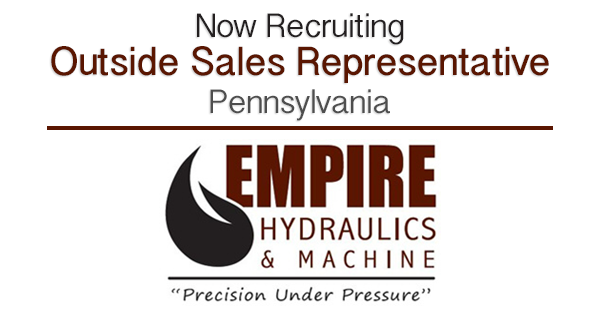 Now Recruiting: Outside Sales Representative, Lancaster PA
---
Position Closed 
Outside Sales Representative (Contract Position)
Since 1985, Empire Hydraulics & Machine has been a leading distributor of hydraulic components, cylinders, Pumps and Motors, hoses, fittings and Production CNC machining serves Empire is dedicated to improving their customers' profitability and productivity, while enhancing the quality of our services.
Purpose of Position:  
The Outside Sales Representative is responsible for establishing and maintaining profitable relationships with customers. The Outside Sales Representative has primary responsibility for ensuring that the products meet the customer's needs and grows the Company's customer base within the Pennsylvania territory.
Some Essential Duties
Identifies and targets customers in the Pennsylvania market based on revenue potential.
Works with distributor partners to promote Empire products and services by leading / supporting / coordinating efforts of these partners.
Develops and maintains good customer relations by providing prompt attention and resolution to customer's needs, inquiries, or other communications.
Maintains list of current customers and tracks visits and sales history using excel spreadsheets; assists in obtaining firm purchase orders from the customer and monitors open orders to ensure timely delivery.
Some Position Requirements 
Bachelor's or Associates Degree in Sales preferred, but not required.
A minimum of 5 years of outside sales experience preferred.
Sales experience with an emphasis in hydraulics and filtration a plus.
Experience in Mobile Fluid Power/Hydraulics or Industrial Fluid Power/Hydraulics is a plus.
Must have a valid driver's license.
Ability to develop Power Point presentations and to communicate effectively during customer meetings.
Aptitude to maintain organized customer files containing account and customer information.
Strong attention to detail and accuracy.
Some Required Personal Attributes
Excellent communication skills, both verbal and written, a winning attitude is important.
Self-starting attitude.
Excellent problem solving skills.
Ability and desire to learn full complex product line.
Ability to perform multiple tasks.
Computer experience is required in:

Microsoft Office – Word, Excel, Power-point, E-mail, Outlook Calendar.

Knowledge and/or experience in EBMS is a plus.
Ability to learn quickly in a fast paced environment.
Just like all Empire employees, the conduct of this contract representative must be consistent with good character, must be an appropriate reflective of our company's heritage.
All qualified individuals may submit a resume and letter of interest to:
Trackback from your site.