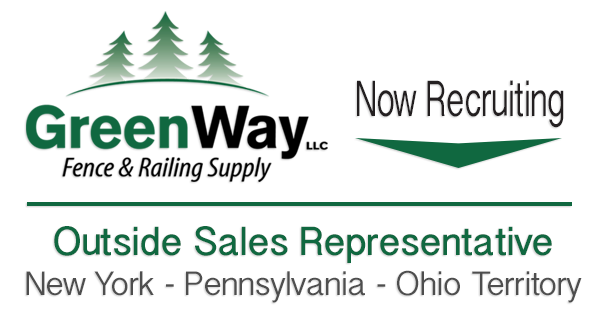 Now Recruiting: Outside Sales Representative, Lancaster PA
---
Position Closed 
Outside Sales Representative
GreenWay Fence & Railing Supply LLC. is committed to understanding, meeting and exceeding their customer's expectations. They provide customers with the highest quality maintenance free outdoor products and services available at a competitive price – on time with complete satisfaction in an honest and ethical manner.
Purpose of Position:  
The Outside Sales Representative is responsible for establishing and maintaining profitable relationships with customers. The Outside Sales Representative has primary responsibility for ensuring that the products meet the customer's needs and grows the Company's customer base within the sales territory.
Some Essential Duties
Identifies and targets new and existing customers in the Western Pennsylvania area, Western Albany, New York area, and the North East Ohio market based on revenue potential.
Works with whole sale fencing retailers/contractors, lumberyards, and building products distributors to promote GreenWay's products and services by leading / supporting / coordinating efforts of these partners.
Needs to know the sales and installations of all GreenWay's products.
Responsible for product training. Responsible for training customer's sales team how to sell and install our products correctly. This could be one-on-one training, or in a group setting.
Responsible for notifying the right people at GreenWay to handle any concerns, or problems with the products that you are made aware of by the customer. You are the customer's first contact. Be willing to take a call on a weekend, or after hours if a customer needs immediate assistance.
Some Position Requirements 
High school diploma or GED.
A minimum of 5 years of outside sales experience preferred.
Sales experience with an emphasis in fences and railings a plus.
Knowledge of general construction.
Must have a valid driver's license.
Ability to develop Power Point presentations and to communicate effectively during customer meetings.
Aptitude to maintain organized customer files containing account and customer information.
Strong attention to detail and accuracy.
Some Required Personal Attributes
Just like all GreenWay employees, the conduct of this contract representative must be consistent with good character, must be an appropriate reflective of our company's heritage.  Complete support of and willing adherence to GreenWay Fence & Railing Supply's mission and vision. Applicant must hold these standards as his/her own.
All qualified individuals may submit a resume and letter of interest to:
Trackback from your site.