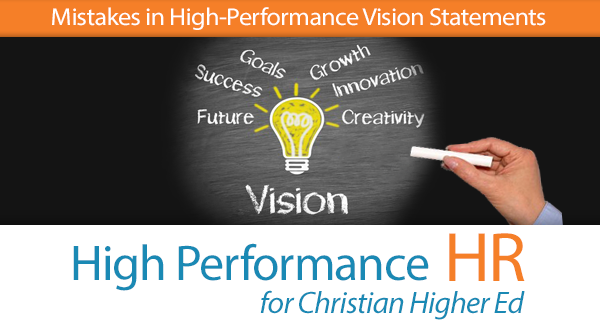 Mistakes in High-Performance Vision Statements
---
Today, we'll look at the 3 biggest mistakes commonly made by organizations during the creation of their Vision Statement.
As discussed in the last post, Organizations wanting to perform at the highest level do so by working to leverage 3 commitments. These commitments set the stage for overall efficiency, growth, and prosperity.
Mission Statement
Vision Statement
Core Values
Great leaders vision-cast for their organization.
They have an idea of where they want their organization to be down the road. They chart their desired course ahead of time. The best leaders will map out their Vision, put this Vision on paper, and share their Vision with the entire crew. However, too many leaders fail to be precise—they don't follow a top-notch process to ensure their Vision truly comes to fruition.
Mistakes You Want to Avoid
Mistake #1: Developing a Vision Statement that isn't achievable in the near future—within an employee's working lifetime.
This is a bad idea. Instead of a far-off Vision as the organizational aim, your employees need to envision achieving the goal far sooner, so they can potentially experience the achievement as part of the team.
No employee wants to think that they are expected to work hard to achieve an organization's Vision without still being around to celebrate it happening. If the goal lies too far into the future, employees don't feel invested in the outcome. They don't feel committed to it. Instead, it gets shelved and ignored. With an achievable goal, hope, motivation, and perseverance are ignited. They can see your destination on the horizon. Your excitement will become theirs.
When creating a Vision statement, make it achievable. Once it's achieved, make sure you revisit it and make any adjustments and corrections to it as you move forward.
Mistake #2: The Vision statement is not included in the hiring and recruitment processes.
As you build your team, make sure that your potential employees know the direction your organization is headed; starting the moment they first step through the door. Let them know where they're going when they first get onboard. It's not enough to expect them to figure it out by osmosis. Don't leave your Vision to chance. Tell them up front what it is and the role they will play in achieving it.
Your Vision statement must be seamlessly incorporated into your hiring practices and documents. If it is not obvious from the start, you risk spending a lot of time, energy, and money acquiring people who don't know where you're going and don't care. Your organization will be rudderless.
Your Vision Statement is an invaluable motivator for your employees. Would you want to board a ship or a plane without knowing the destination ahead of time? Your employees won't want to either.
As a leader, you are the captain. Your crew—your employees—and your passengers—your customers—must be informed as to the destination of your journey and be enthusiastic about it.
This is how high performance gets started!
Mistake # 3: Failing to integrate your commitment to your organization's Core Values and Mission Statement into your Vision Statement—not making it a complete, holistic package.
A Vision statement should articulate two crucial items in addition to your Vision: your Mission statement and the core Values guiding your organization.
These three components are interdependent and must work together as a team. Just like a top coach wouldn't play merely one-third of his football squad in the Super Bowl, it is not possible to create a high-performing organization from the ground up if it lacks any of these three key components.
The success of your Vision is important to your future—much too important to omit any of the key supporting pieces and risk it failing.
If creating these three documents sounds like a lot to bite off, don't be discouraged! Human Resources experts exist to help you, and resources exist to make it easier. The best ones guide you through the whole process, just like the one I created with my team. We've done the foundational work for you to make it all happen smoothly and simply. Our HR Mastery Toolkit teaches and guides you to implement the best practices used by some of the top, most successful organizations in the world.
We begin with this essential first task: establishing your organization's Mission, Vision, and Values.
By using a top-notch process to create your Vision Statement, you'll set the stage for your employees to achieve it.
In the next post, we will continue examining this critical trio. I'll give you some of the expertise I've gleaned from more than twenty years in the field of human resources. Come back to read: Mistakes Organizations Make When Determining Their Core Values.
___________
Join us at the 2018 Annual ABACC Conference at the Wyndham Orlando Florida Resort (International Drive). We will be exhibiting at this informative conference February 13 through February 16, 2018. Learn more here.
We will also be speaking (Grace and Wisdom When Right-Sizing Your Staff) and exhibiting for the ABHE Annual Meeting February 21-23, 2018 at the Rosen Plaza Hotel, Orlando Florida  Learn more here.
Contact us directly to set up a personal meeting in advance of the annual meeting. Looking forward to creating new friends and fostering deeper relationships with contacts we know.
In His Name HR helps organizations build high performance Human Resources programs. Visit them at In HIS Name HR or e-mail them here.
Mark A. Griffin is the founder and chief consultant of In His Name HR LLC. Connect with him on LinkedIn or Twitter.
Trackback from your site.