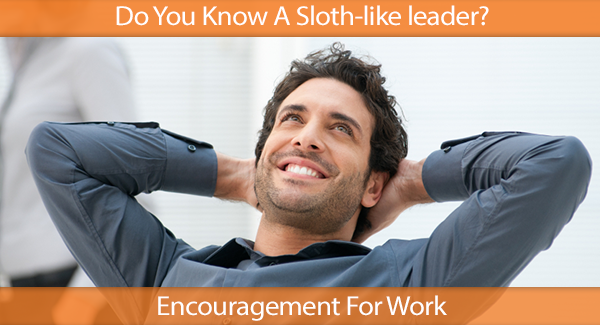 Do You Know A Sloth-Like leader?
---
Proverbs 12:11
11Those who work their land will have abundant food, but those who chase fantasies have no sense.
One of the seven deadly sins is sloth. Many leaders look at their people and accuse them of sloth-like behavior, yet, if they examined themselves more closely, they would discover that they are equally guilty of being sloth-like, maybe not in the sense of their rate of production, but in the time spent in fantasizing about their business objectives.
 Sloth-like leaders dream too much and yield little
We all have lofty dreams — big dreams and pie-in-the-sky thoughts. And organizational vision is paramount to the success of every organization! The problem is that dreaming all day won't satisfy your customers or get the widgets out the door! As Christian business leaders, we all need some time to ourselves to dream big for the creation of our goals and vision for our companies. Sometimes, though, we have witnessed leaders getting so caught up in big picture thinking that they lose their way in daily transactional business leadership, and their teams go astray, feeling they have no leadership. Leaders: if you find yourself disconnected from your teams and your businesses because of your lack of attention, focusing only on your lofty goals, wake up! If you can balance both day to day focus and big picture thinking, you are building a "Kingdom Minded" Organization.
When John Piper Reads "Pilgrim's Conflict with Sloth"– You realize just how bad sloth behavior can be.
Help our community of readers
Have you witnessed a sloth in the workplace? What was the remedy? What have you done to combat your own sloth behavior?
Trackback from your site.